Our #1 Most Important-The BIG head honcho!
~ Our DaisyDogg ~
Don't think we could do it without her!

Daisy heads up our Company. She plays a major role in Moral Building, Spirit Lifting, Conflict Resolution, and Sound Thinking!

She reminds us all that LIFE is just a THING so SMILE!

Our "Supervisor" ~ ASLEEP ON THE JOB!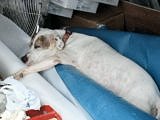 Tuckered out Daisy napping while we work.
Take a LOOK
at some of our
AWESOME


Don't forget
to see our